Hi all, "big bruvver" here. I just wanted to write to you and thank you all for succeeding the amount of comments Mumsie has ever received on her last post regarding the new addition to the family. This time last week I had absolutely no idea there would be a THIRD terrier in the house, and now I couldn't be happier. He is SO much more than I expected. I've always wanted a big dog, and i've been born and raised to love terriers, so this was a perfe...err, pawfect opportunity. I knew he was the right one for me the other night when we were up late, Stanley was having a chew and relaxing on a chair watching Planet Earth and occasionally barking at the wolves on the screen!
We have decided to name him Stanley. Mostly because I wanted a name that would be fitting with a Sir in front of it, and he is absolutely the man...so, Stan the Man was way too fitting to pass up. Stanley has immediately stolen the hearts of not only the people in our family, but Scruffy and (in particular) Lacie as well! This was seen when Stanley and Lacie got into a fun game of "Under the Bed" last night, until he realized he couldn't fit his big head completely under! See exhibits A and B for more details:
Exhibit A: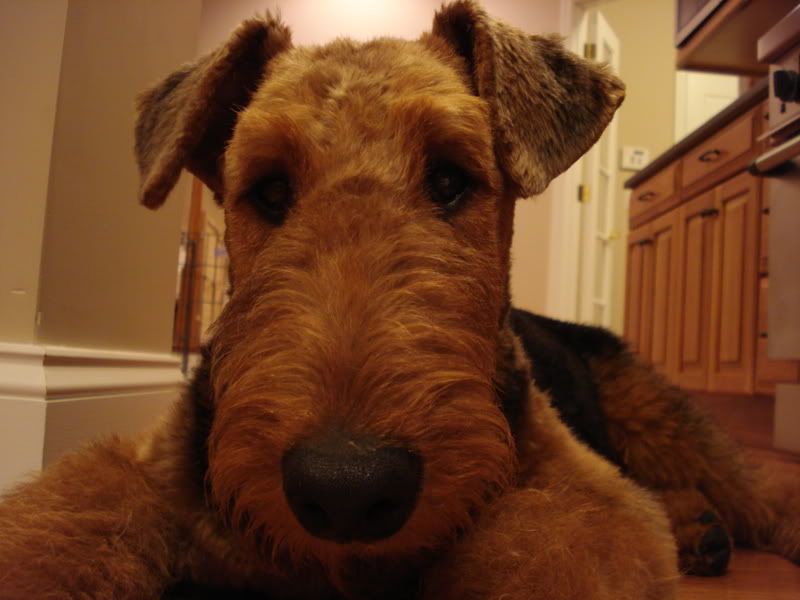 Exhibit B: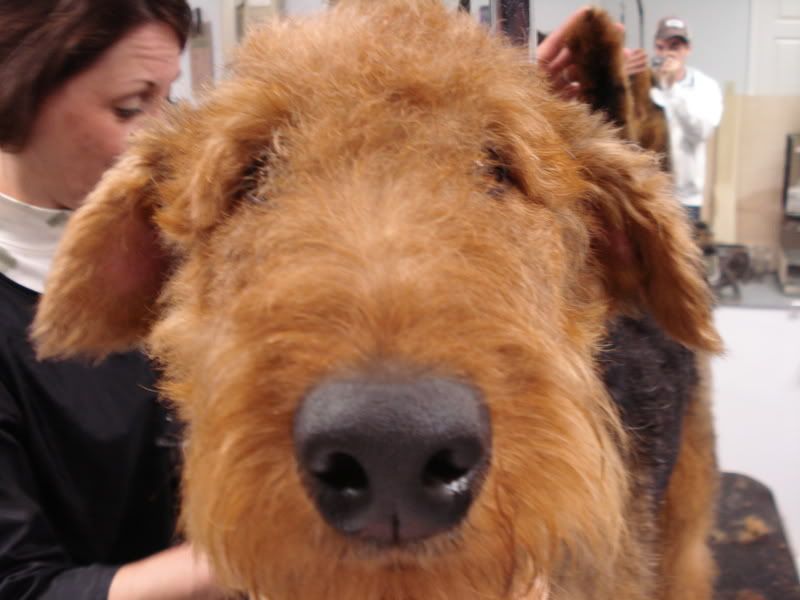 (This was before my haircut when I was looking quite bear-ish!)
Imagine that trying to fit under a bed to grab a little lakie! The best he could do was extend his large tongue as far as possible and provide as many airekisses as possible. Lacie is still pretty much running the show, acting almost in what appears to be a managerial position. She sits perched above them during a night-time chew session and analyzes the situation at hand. If there is a problem, she makes an executive decision, snarles, and returns to her chair after setting everyone back in line. Stanley thinks she's slightly b*tchy!
I've had the pleasure of walking all three of them at once...it's quite a scene. I try to keep them in order by height as we walk; however, it usually ends up with me in some spiderweb of a mess with the potential of being mummified by leashes. When they do listen, and all walk together, I can't help but think of taking a picture and selling it to Sprint for their "Raising the Bar" commercials! :)
Anyways, thanks for all the great comments about him. He really is a great looking guy...apparently there is a certain miss sunshade who might be gettin' lucky with him. He will be coming back to Penn State with me...hopefully his cuteness can be beneficial to me as well! Kinda a "you scratch my back, I scratch yours" type situation ;). Here is a picture of me and what I like to call Terrier Madness: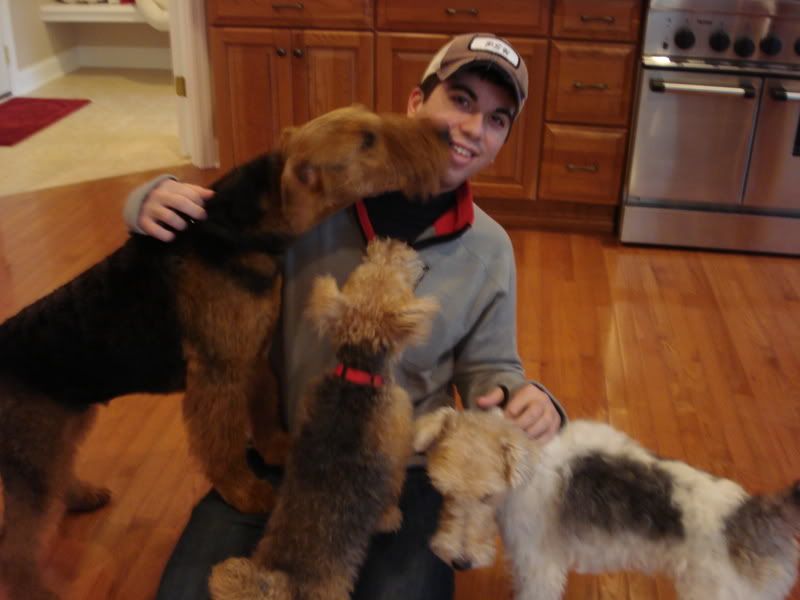 He is HUGE! I can't even imagine what he's going to look like with another 20 pounds on him!
And one of Mumsie and the pack: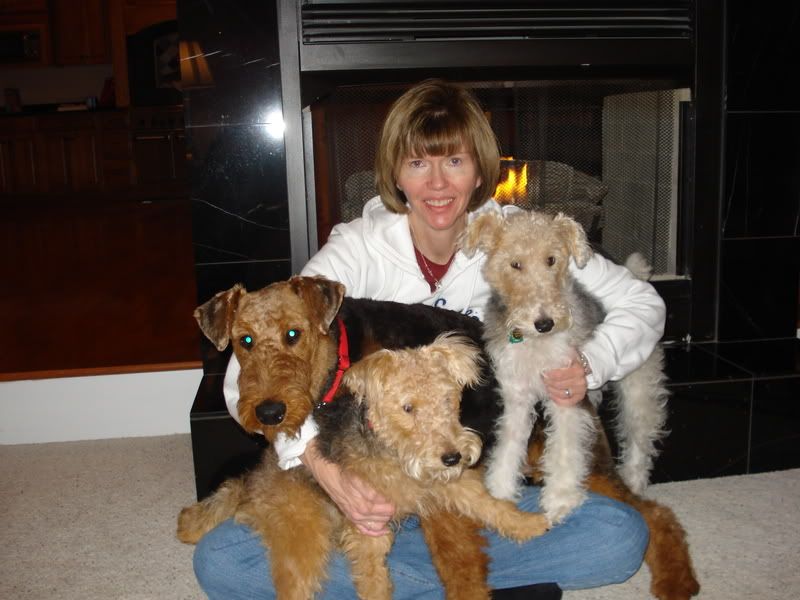 Stanley makes a great couch or pillow if you need him to be! It's one of his many great qualities (especially his ability to produce gas at an astounding rate when he gets tired...thanks Stanley).
I have been following the adventures of Scruffy and Lacie and get a real-time update constantly from Mumsie. After seeing Scruffy be publicly humiliated in a bikini, I am going to let it be known now that Stanley will not be abused like that!
...but then again, Mumsie manages to do sneaky things when i'm not around.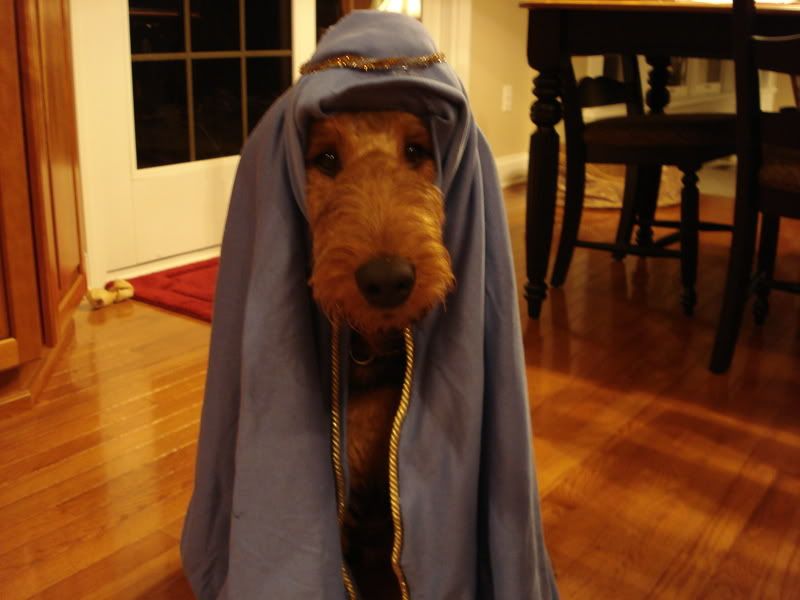 Keep your tails up,
Big Bruvver